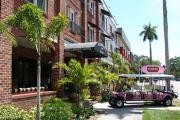 Hollander Boutique Hotel
421 4th Ave N, St Petersburg, FL 33701
(727) 873-7900
About Hollander Boutique Hotel
Located right near the heart of scenic Downtown St Petersburg, the Hollander Boutique Hotel is just a short distance from St Petersburg attractions.
Articles mentioning Hollander Boutique Hotel
If you want to take your lover on a romantic weekend getaway in St. Petersburg, Florida, make sure you check out these hotels. Each of them has a variety of conveniences, services, and amenities to offer, no matter what your budget.