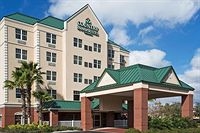 Country Inn & Suites by Carlson, Tampa/Brandon
915 S Falkenburg Road, Tampa, FL 33619
1-800-275-0186
About Country Inn & Suites by Carlson, Tampa/Brandon
Country Inn & Suites by Carlson, Tampa/Brandon is a Hotel business in Brandon
Property Location
With a stay at Country Inn & Suites by Carlson, Tampa/Brandon in Tampa, you'll be convenient to Ice Sports Forum and Westfield Brandon. This hotel is within the vicinity of Florida State Fairgrounds and Bob Thomas Equestrian Center.
Rooms
Make yourself at home in one of the 82 air-conditioned guestrooms. Conveniences include complimentary newspapers and coffee/tea makers, and housekeeping is provided daily.
Rec, Spa, Premium Amenities
Take advantage of recreational opportunities offered, including an outdoor pool, a 24-hour fitness center, and a fitness center.
Dining
A complimentary breakfast is included.
Business, Other Amenities
Featured amenities include a business center, express check-out, and complimentary newspapers in the lobby. Free self parking is available onsite.
Country Inn & Suites by Carlson, Tampa/Brandon Amenities
24-hour fitness facilities
24-hour front desk
Business center
Coffee/tea in lobby
Complimentary newspapers in lobby
Dry cleaning/laundry service
Elevator/lift
Express check-out
Fitness facilities
Free breakfast
Free self parking
Laundry facilities
Multilingual staff
Number of floors - 5
Outdoor pool
Safe-deposit box at front desk
Total number of rooms - 82
Country Inn & Suites by Carlson, Tampa/Brandon Standard room
1 king bed or 2 double beds
Entertainment - Free WiFi
Food & Drink - Coffee/tea maker
Bathroom - Private bathroom with a hair dryer

Room Amenities
Air conditioning
Coffee/tea maker
Complimentary newspaper
Cribs/infant beds available
Daily housekeeping
Free local calls
Hair dryer
Iron/ironing board
Private bathroom
Country Inn & Suites by Carlson, Tampa/Brandon Studio Ste-King-Non Smoking
1 king bed
Entertainment - Free WiFi
Food & Drink - Coffee/tea maker
Bathroom - Private bathroom with a hair dryer
Non-Smoking

Room Amenities
Air conditioning
Coffee/tea maker
Complimentary newspaper
Cribs/infant beds available
Daily housekeeping
Free local calls
Hair dryer
Iron/ironing board
Private bathroom
Country Inn & Suites by Carlson, Tampa/Brandon Studio Ste-2Queens-Non Smoking
2 queen beds
Entertainment - Free WiFi
Food & Drink - Coffee/tea maker
Bathroom - Private bathroom with a hair dryer
Non-Smoking

Room Amenities
Air conditioning
Coffee/tea maker
Complimentary newspaper
Cribs/infant beds available
Daily housekeeping
Free local calls
Hair dryer
Iron/ironing board
Private bathroom
Country Inn & Suites by Carlson, Tampa/Brandon Executive Suite, One King Bed, Non-Smoking
1 king bed
Entertainment - Free WiFi
Food & Drink - Coffee/tea maker
Bathroom - Private bathroom with a hair dryer
Non-Smoking

Room Amenities
Air conditioning
Coffee/tea maker
Complimentary newspaper
Cribs/infant beds available
Daily housekeeping
Free local calls
Hair dryer
Iron/ironing board
Private bathroom
Country Inn & Suites by Carlson, Tampa/Brandon 1Bdrm Ste Whpl-King-Non Smk
1 king bed
Entertainment - Free WiFi
Food & Drink - Coffee/tea maker
Bathroom - Private bathroom with a hair dryer
Non-Smoking

Room Amenities
Air conditioning
Coffee/tea maker
Complimentary newspaper
Cribs/infant beds available
Daily housekeeping
Free local calls
Hair dryer
Iron/ironing board
Private bathroom
Country Inn & Suites by Carlson, Tampa/Brandon 1Bdrm Ste-King-Non Smoking
1 king bed
Entertainment - Free WiFi
Food & Drink - Coffee/tea maker
Bathroom - Private bathroom with a hair dryer
Non-Smoking

Room Amenities
Air conditioning
Coffee/tea maker
Complimentary newspaper
Cribs/infant beds available
Daily housekeeping
Free local calls
Hair dryer
Iron/ironing board
Private bathroom
Country Inn & Suites by Carlson, Tampa/Brandon Executive Suite, Two Queen Beds, Non-Smoking
2 queen beds
Entertainment - Free WiFi
Food & Drink - Coffee/tea maker
Bathroom - Private bathroom with a hair dryer
Non-Smoking

Room Amenities
Air conditioning
Coffee/tea maker
Complimentary newspaper
Cribs/infant beds available
Daily housekeeping
Free local calls
Hair dryer
Iron/ironing board
Private bathroom
Country Inn & Suites by Carlson, Tampa/Brandon Guest Room -1 King Bed
1 king bed
Food & Drink - Coffee/tea maker
Bathroom - Private bathroom with a hair dryer
Non-Smoking

Room Amenities
Air conditioning
Coffee/tea maker
Complimentary newspaper
Cribs/infant beds available
Daily housekeeping
Free local calls
Hair dryer
Iron/ironing board
Private bathroom
Country Inn & Suites by Carlson, Tampa/Brandon Guest Room-2 Queen Beds
2 queen beds
Food & Drink - Coffee/tea maker
Bathroom - Private bathroom with a hair dryer
Non-Smoking

Room Amenities
Air conditioning
Coffee/tea maker
Complimentary newspaper
Cribs/infant beds available
Daily housekeeping
Free local calls
Hair dryer
Iron/ironing board
Private bathroom
Country Inn & Suites by Carlson, Tampa/Brandon Handicap Accessible Guest Room
1 king bed
Food & Drink - Coffee/tea maker
Bathroom - Private bathroom with a hair dryer
Non-Smoking

Room Amenities
Air conditioning
Coffee/tea maker
Complimentary newspaper
Cribs/infant beds available
Daily housekeeping
Free local calls
Hair dryer
Iron/ironing board
Private bathroom
Country Inn & Suites by Carlson, Tampa/Brandon Handicap Accessible Guest Room
2 queen beds
Food & Drink - Coffee/tea maker
Bathroom - Private bathroom with a hair dryer
Non-Smoking

Room Amenities
Air conditioning
Coffee/tea maker
Complimentary newspaper
Cribs/infant beds available
Daily housekeeping
Free local calls
Hair dryer
Iron/ironing board
Private bathroom
Country Inn & Suites by Carlson, Tampa/Brandon One King Bed, Non-Smoking, Accessible
1 king bed
Food & Drink - Coffee/tea maker
Bathroom - Private bathroom with a hair dryer
Non-Smoking

Room Amenities
Air conditioning
Coffee/tea maker
Complimentary newspaper
Cribs/infant beds available
Daily housekeeping
Free local calls
Hair dryer
Iron/ironing board
Private bathroom
Country Inn & Suites by Carlson, Tampa/Brandon One King Bed, Non-Smoking, Accessible
1 king bed
Food & Drink - Coffee/tea maker
Bathroom - Private bathroom with a hair dryer
Non-Smoking

Room Amenities
Air conditioning
Coffee/tea maker
Complimentary newspaper
Cribs/infant beds available
Daily housekeeping
Free local calls
Hair dryer
Iron/ironing board
Private bathroom
Country Inn & Suites by Carlson, Tampa/Brandon One Bedroom Suite, Non-Smoking, Accessible
2 queen beds
Food & Drink - Coffee/tea maker
Bathroom - Private bathroom with a hair dryer
Non-Smoking

Room Amenities
Air conditioning
Coffee/tea maker
Complimentary newspaper
Cribs/infant beds available
Daily housekeeping
Free local calls
Hair dryer
Iron/ironing board
Private bathroom
Country Inn & Suites by Carlson, Tampa/Brandon One Bedroom Suite, Non-Smoking, Accessible
1 king bed
Food & Drink - Coffee/tea maker
Bathroom - Private bathroom with a hair dryer
Non-Smoking

Room Amenities
Air conditioning
Coffee/tea maker
Complimentary newspaper
Cribs/infant beds available
Daily housekeeping
Free local calls
Hair dryer
Iron/ironing board
Private bathroom
Country Inn & Suites by Carlson, Tampa/Brandon One Bedroom Suite, Non-Smoking, with Jetted Tub
1 king bed
Food & Drink - Coffee/tea maker
Bathroom - Private bathroom with a hair dryer
Non-Smoking

Room Amenities
Air conditioning
Coffee/tea maker
Complimentary newspaper
Cribs/infant beds available
Daily housekeeping
Free local calls
Hair dryer
Iron/ironing board
Private bathroom
Country Inn & Suites by Carlson, Tampa/Brandon Two Queen Beds, Non-Smoking, Accessible
2 queen beds
Food & Drink - Coffee/tea maker
Bathroom - Private bathroom with a hair dryer
Non-Smoking

Room Amenities
Air conditioning
Coffee/tea maker
Complimentary newspaper
Cribs/infant beds available
Daily housekeeping
Free local calls
Hair dryer
Iron/ironing board
Private bathroom
Country Inn & Suites by Carlson, Tampa/Brandon Deluxe, One King Bed, Non-Smoking
1 king bed
Food & Drink - Coffee/tea maker
Bathroom - Private bathroom with a hair dryer
Non-Smoking

Room Amenities
Air conditioning
Coffee/tea maker
Complimentary newspaper
Cribs/infant beds available
Daily housekeeping
Free local calls
Hair dryer
Iron/ironing board
Private bathroom
Country Inn & Suites by Carlson, Tampa/Brandon One Bedroom Suite, Non-Smoking
1 king bed
Food & Drink - Coffee/tea maker
Bathroom - Private bathroom with a hair dryer
Non-Smoking

Room Amenities
Air conditioning
Coffee/tea maker
Complimentary newspaper
Cribs/infant beds available
Daily housekeeping
Free local calls
Hair dryer
Iron/ironing board
Private bathroom
Country Inn & Suites by Carlson, Tampa/Brandon One Bedroom Suite, Non-Smoking
2 queen beds
Food & Drink - Coffee/tea maker
Bathroom - Private bathroom with a hair dryer
Non-Smoking

Room Amenities
Air conditioning
Coffee/tea maker
Complimentary newspaper
Cribs/infant beds available
Daily housekeeping
Free local calls
Hair dryer
Iron/ironing board
Private bathroom
Country Inn & Suites by Carlson, Tampa/Brandon Guest Room Two Queen Beds Non-Smoking
2 queen beds
Food & Drink - Coffee/tea maker
Bathroom - Private bathroom with a hair dryer
Non-Smoking

Room Amenities
Air conditioning
Coffee/tea maker
Complimentary newspaper
Cribs/infant beds available
Daily housekeeping
Free local calls
Hair dryer
Iron/ironing board
Private bathroom
Country Inn & Suites by Carlson, Tampa/Brandon Suite, Non-Smoking
1 king bed
Food & Drink - Coffee/tea maker
Bathroom - Private bathroom with a hair dryer
Non-Smoking

Room Amenities
Air conditioning
Coffee/tea maker
Complimentary newspaper
Cribs/infant beds available
Daily housekeeping
Free local calls
Hair dryer
Iron/ironing board
Private bathroom
Country Inn & Suites by Carlson, Tampa/Brandon Superior, Two Queen Beds, Non-Smoking
2 queen beds
Food & Drink - Coffee/tea maker
Bathroom - Private bathroom with a hair dryer
Non-Smoking

Room Amenities
Air conditioning
Coffee/tea maker
Complimentary newspaper
Cribs/infant beds available
Daily housekeeping
Free local calls
Hair dryer
Iron/ironing board
Private bathroom
Country Inn & Suites by Carlson, Tampa/Brandon Guest Room, 1 King, Non-Smoking
1 king bed
Food & Drink - Coffee/tea maker
Bathroom - Private bathroom with a hair dryer
Non-Smoking

Room Amenities
Air conditioning
Coffee/tea maker
Complimentary newspaper
Cribs/infant beds available
Daily housekeeping
Free local calls
Hair dryer
Iron/ironing board
Private bathroom
Country Inn & Suites by Carlson, Tampa/Brandon Guest Room, 1 King, Accessible, Non-Smoking
1 king bed
Food & Drink - Coffee/tea maker
Bathroom - Private bathroom with a hair dryer
Non-Smoking

Room Amenities
Air conditioning
Coffee/tea maker
Complimentary newspaper
Cribs/infant beds available
Daily housekeeping
Free local calls
Hair dryer
Iron/ironing board
Private bathroom
Country Inn & Suites by Carlson, Tampa/Brandon Guest Room, 2 Queen, Non-Smoking
2 queen beds
Food & Drink - Coffee/tea maker
Bathroom - Private bathroom with a hair dryer
Non-Smoking

Room Amenities
Air conditioning
Coffee/tea maker
Complimentary newspaper
Cribs/infant beds available
Daily housekeeping
Free local calls
Hair dryer
Iron/ironing board
Private bathroom
Country Inn & Suites by Carlson, Tampa/Brandon Guest Room, 2 Queen, Accessible, Non-Smoking
2 queen beds
Food & Drink - Coffee/tea maker
Bathroom - Private bathroom with a hair dryer
Non-Smoking

Room Amenities
Air conditioning
Coffee/tea maker
Complimentary newspaper
Cribs/infant beds available
Daily housekeeping
Free local calls
Hair dryer
Iron/ironing board
Private bathroom
Country Inn & Suites by Carlson, Tampa/Brandon Studio Suite, 1 King Bed with Sofabed, Non Smoking
1 king and 1 sofa bed
Food & Drink - Coffee/tea maker
Bathroom - Private bathroom with a hair dryer
Non-Smoking

Room Amenities
Air conditioning
Coffee/tea maker
Complimentary newspaper
Cribs/infant beds available
Daily housekeeping
Free local calls
Hair dryer
Iron/ironing board
Private bathroom
Country Inn & Suites by Carlson, Tampa/Brandon Studio Suite, 1 King Bed with Sofabed, Accessible, Non Smoking
1 king and 1 sofa bed
Food & Drink - Coffee/tea maker
Bathroom - Private bathroom with a hair dryer
Non-Smoking

Room Amenities
Air conditioning
Coffee/tea maker
Complimentary newspaper
Cribs/infant beds available
Daily housekeeping
Free local calls
Hair dryer
Iron/ironing board
Private bathroom
Country Inn & Suites by Carlson, Tampa/Brandon Studio Suite, 2 Queen Beds, Non Smoking
2 queen beds
Food & Drink - Coffee/tea maker
Bathroom - Private bathroom with a hair dryer
Non-Smoking

Room Amenities
Air conditioning
Coffee/tea maker
Complimentary newspaper
Cribs/infant beds available
Daily housekeeping
Free local calls
Hair dryer
Iron/ironing board
Private bathroom
Country Inn & Suites by Carlson, Tampa/Brandon Suite, 1 King Bed with Sofabed, Non Smoking
1 king and 1 sofa bed
Food & Drink - Coffee/tea maker
Bathroom - Private bathroom with a hair dryer
Non-Smoking

Room Amenities
Air conditioning
Coffee/tea maker
Complimentary newspaper
Cribs/infant beds available
Daily housekeeping
Free local calls
Hair dryer
Iron/ironing board
Private bathroom
Country Inn & Suites by Carlson, Tampa/Brandon Suite, 1 King Bed with Sofabed, Accessible, Non Smoking
1 king and 1 sofa bed
Food & Drink - Coffee/tea maker
Bathroom - Private bathroom with a hair dryer
Non-Smoking

Room Amenities
Air conditioning
Coffee/tea maker
Complimentary newspaper
Cribs/infant beds available
Daily housekeeping
Free local calls
Hair dryer
Iron/ironing board
Private bathroom
Country Inn & Suites by Carlson, Tampa/Brandon Suite, 1 King Bed with Sofabed, Non Smoking
1 king and 1 sofa bed
Food & Drink - Coffee/tea maker
Bathroom - Private bathroom with a hair dryer
Non-Smoking

Room Amenities
Air conditioning
Coffee/tea maker
Complimentary newspaper
Cribs/infant beds available
Daily housekeeping
Free local calls
Hair dryer
Iron/ironing board
Private bathroom
Country Inn & Suites by Carlson, Tampa/Brandon Suite, 1 King Bed with Sofabed, Non Smoking
1 king and 1 sofa bed
Food & Drink - Coffee/tea maker
Bathroom - Private bathroom with a hair dryer
Non-Smoking

Room Amenities
Air conditioning
Coffee/tea maker
Complimentary newspaper
Cribs/infant beds available
Daily housekeeping
Free local calls
Hair dryer
Iron/ironing board
Private bathroom
Country Inn & Suites by Carlson, Tampa/Brandon Suite, 1 King Bed, Accessible, Non Smoking
1 king bed
Food & Drink - Coffee/tea maker
Bathroom - Private bathroom with a hair dryer
Non-Smoking

Room Amenities
Air conditioning
Coffee/tea maker
Complimentary newspaper
Cribs/infant beds available
Daily housekeeping
Free local calls
Hair dryer
Iron/ironing board
Private bathroom
Country Inn & Suites by Carlson, Tampa/Brandon Suite, 2 Queen Beds, Non Smoking
2 queen beds
Food & Drink - Coffee/tea maker
Bathroom - Private bathroom with a hair dryer
Non-Smoking

Room Amenities
Air conditioning
Coffee/tea maker
Complimentary newspaper
Cribs/infant beds available
Daily housekeeping
Free local calls
Hair dryer
Iron/ironing board
Private bathroom
Country Inn & Suites by Carlson, Tampa/Brandon Suite, 2 Queen Beds, Accessible, Non Smoking
2 queen beds
Food & Drink - Coffee/tea maker
Bathroom - Private bathroom with a hair dryer
Non-Smoking

Room Amenities
Air conditioning
Coffee/tea maker
Complimentary newspaper
Cribs/infant beds available
Daily housekeeping
Free local calls
Hair dryer
Iron/ironing board
Private bathroom
Country Inn & Suites by Carlson, Tampa/Brandon Suite, 1 King Bed, Accessible, Non Smoking
1 king bed
Food & Drink - Coffee/tea maker
Bathroom - Private bathroom with a hair dryer
Non-Smoking

Room Amenities
Air conditioning
Coffee/tea maker
Complimentary newspaper
Cribs/infant beds available
Daily housekeeping
Free local calls
Hair dryer
Iron/ironing board
Private bathroom
Country Inn & Suites by Carlson, Tampa/Brandon Guest Room, 2 Queen, Accessible, Non-Smoking
2 queen beds
Food & Drink - Coffee/tea maker
Bathroom - Private bathroom with a hair dryer
Non-Smoking

Room Amenities
Air conditioning
Coffee/tea maker
Complimentary newspaper
Cribs/infant beds available
Daily housekeeping
Free local calls
Hair dryer
Iron/ironing board
Private bathroom