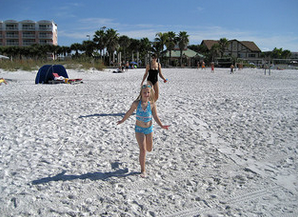 In addition to the amazing weather which draws in couples getting married, college kids on vacation and retirees relocating, St. Petersburg is a fantastic place for families with kids. This top beach town for travelers is loaded with family friendly activities and attractions that will fit any budget.
Clearwater Marine Aquarium is a non-profit marine life preserve dedicated to protecting the marine environment through education and research. They offer exhibits of all types of marine animals as well as interactive experiences such as art projects and a sting ray petting habitat. Pricing is extremely inexpensive and hours of operation are 10 A.M. to 6 P.M. Monday through Sunday.
Florida is a wonderful place to travel if your kids like the great outdoors. You're first stop should be the Boyd Hill Nature Preserve. The preserve offers 240 acres of awe inspiring nature views. Fresh air and sunshine abounds on the nature trails so you can tire the kids out on a long hike. There is an aviary where you can get up close to birds of prey, as well as numerous picnic spots and a fun gift shop.
Resort Fun for Kids
One of the best ways to entertain your kids on vacation is to stay in a great resort like Tradewinds which provides a fun filled daily schedule of activities for your kids. Tradewind activities include things like a Dive in Movie where you watch your movie while in the pool or corn tossing competitions and art project hours. Smaller kids can stay in resort sponsored day cares packed with activities and educational opportunities while parents visit Fine Restaurants and Art Museums nearby.
St. Petersburg is famous for its gorgeous clean white sand beaches. Miles of beaches spread down the water's edge giving your family ample opportunity and space to participate in water sports learn new skills like fishing and scuba diving. Snack shacks dot the beaches so you never even have to leave the sun for lunch.
Check in with your travel agent for package deals if you're not staying in a resort. Often you can still visit the resorts attractions. Tidewater resorts allows non-guests to play on their High Tide Slide for a modest fee. There are numerous other outdoor activities you can do if you're willing to pay to play. Sailing lessons, boat fishing trips and indoor Olympic size swimming pools all make the top of the list for kids.